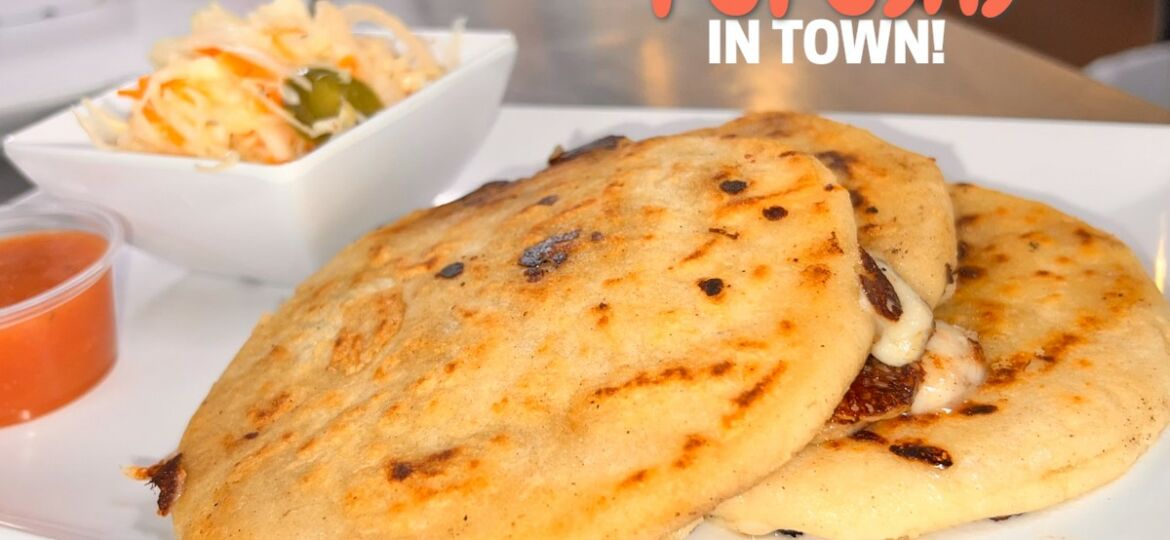 Latin American food embodies unique, robust, and memorable flavors—and pupusas are no exception!
Did you know that Leonardo Dicaprio declared in an interview that this typical dish from El Salvador was one of the best he's ever tasted? Even better than tacos!
Pupusas have crossed borders around the world, positioning themselves as one of the most popular Latin American dishes.
But what exactly are pupusas? Let's explore their history, impact, where you can find them, and even some yummy recipes for homemade goodness!
What are Pupusas?
Pupusas (pronounced "poo-poo-sahs") are tortillas made of corn or rice dough, similar to Mexican tortillas, but slightly thicker and stuffed with various ingredients, such as:
cheese
chicharrón (extraction of pork meat)
beans
shrimp
fish
Although people eat both types of dough (corn or rice), the most popular pupusas are made of corn.
People eat them with curtido de repollo (seasoned cabbage) or with natural tomato sauce.
Origin and History of the Pupusas
The word pupusa derives from the word "pupusawa" which means to puff up (or inflate), and has been linked to the Pipil tribes who inhabited the territory of El Salvador.
The name pupusa also comes from the poptl (Náhuatl) language, which was previously spoken in the Country of El Salvador, and it means "large, stuffed, thick handmade tortilla made from rice or corn dough."
There is no exact creator of the pupusa. In fact, people think of them as a gastronomic phenomenon. However, it's believed that they originated somewhere between Mexico and Costa Rica, in the Mesoamerican region (a region that's also recognized as "corn culture").
This belief is an assumption based on similar dishes that appear in neighboring countries, such as the gorditas in Mexico, and the arepas in Colombia and Venezuela.
On the other hand, a publication by the National Museum of Anthropology affirms that pupusas were a fundamental part of the diet of pre-Columbian settlements in Ahuachapán, El Salvador (probably Quichés who emigrated from Guatemala), at the beginning of the 19th century.
 So, the controversy continues!
Popular Types of Pupusas
When we talk about the "types" of pupusas, we refer to what they have inside—that is, what they're stuffed with.
Here is a list of the most popular ones you'll find no matter where you visit in Latin America.
La pupusa de queso (cheese pupusa)
La pupusa de chicharrón (pork rind pupusa)
La pupusa de ayote (squash pupusa)
La pupusa de frijoles (bean pupusa)
La pupusa de chipilín (chipilín pupusa)
La pupusa de jalapeño (jalapeño pupusa)
La pupusa de camarón (shrimp pupusa)
La pupusa de pollo (chicken pupusa)
Ingredients
In your quest to find the perfect pupusa, make sure you've memorized some important vocabulary words to order exactly what you want!
| | |
| --- | --- |
| Spanish | English |
| el queso | cheese |
| el chicharrón | pork rind |
| el ayote | squash |
| los frijoles | beans |
| el chipilín | chipilin |
| el jalapeño | jalapeño |
| el camarón | shrimp |
| el pollo | chicken |
Condiments
Of course, we can't leave the condiments behind!
Pupusas come with natural tomato sauce and pickled cabbage. If you like extra spicy food, ask for spicy tomato sauce or add pickled jalapeños (called escabeche) as a topping for this special Latin American food.
Delicious, I know!
How to Make Pupusas at Home
We've been talking about all the wonders of pupusas, but if you don't know where to get one near you, it's time to make them at home!
Below is a traditional pupusas de queso recipe with step-by-step directions for you to make this famous and delicious Latin American food at home!
Prepare the Corn Dough
There are different brands of cornflour to prepare the dough. In El Salvador, people usually use the Maseca type. Simply add the cornflour to a bowl, and pour hot water in it as needed. In general, for each cup of cornflour, add 1 cup of water, but keep in mind that you want to reach a good consistency: malleable but not sticky.
Make as many cups of dough as you like, calculating your quantity based on the number of pupusas you want to make. Once the dough is prepared, cover it and set it aside.
Prepare Your Filling
Ingredients:
3 cups of shredded cheese (or mix mozzarella and ricotta together)
3 or 4 tablespoons of cream
½ to 1 cup of ground chipilín or loroco (to your taste)
Optional: 1 chopped green chili (or passed through the food processor)
Salt to your liking
Mix all of these ingredients into a thick paste that's not runny.
Bring Your Pupusas to Life
Roll the dough into a ball and then shape it by curving your hand and creating a hollow of your palm where the ball sits. Indent your finger into the center and close one end of the ball over itself.
Flatten the pupusa between your palms so that it's circular and flat. Be gentle so as not to break open the filling.
Add just a small splash of oil before cooking over low heat on a Teflon or iron griddle (or clay, if you prefer). *If you have an electric iron, you can use it at a temperature between 325 ° to 350 ° F.
Let the pupusas cook until they're golden brown on the outside. Take them off the griddle and serve them on a plate, adding some sauce or cabbage on top.
Enjoy!
Prepare Your Cabbage Condiment
Ingredients:
½ to 1 chopped cabbage (not so fine) passed through boiling water
1 sliced medium onion, or 3 entire small onions
1 carrot (cut lengthwise)
½ cup of cooked green beans (not too soft)
Optional: 1 beetroot
Optional: ¾ cup of radishes
Optional: 1 finely chopped red hot chili
¾ cup of vinegar
¼ cup of water (the ratio of vinegar and water can change depending on your preference)
1½ teaspoon of oregano,
salt to taste
Procedure:
1. In a bowl, mix all the ingredients (except the water and vinegar).
2. In a smaller bowl, mix the vinegar and water (depending on how strong you like it). To be sure, taste your mixture before adding it to the rest of the ingredients to see if you approve. If you like it, add it to the rest of the mixture.
3. Let the mix stand in the refrigerator for at least 2 hours before serving (for a slightly preserved flavor, refrigerate it overnight before serving).
4. Serve it on top of your pupusas.
Prepare a Traditional Tomato Sauce
Ingredients:
large tomatoes (the number of tomatoes depends on the amount of sauce you want to make).
1 green chili
1 medium onion
2 cloves of garlic
1 chicken cube
Optional: coriander (as much as you like)
½ cup of water (if you use more tomatoes, add more water)
salt to taste
Procedure:
Cook all the ingredients in the water.
Remove the skin from the tomatoes.
Put everything in a blender and blend until it gets the texture of a sauce.
Move the sauce to a pan and cook it for another 10 minutes over low heat, turning it every so often.
Serve on top of your pupusas and enjoy!
 ¡Es Hora de Comer Pupusas!
All Latin American food is great, but pupusas are simply amazing, aren't they?
This famous dish is worth trying at least once, and definitely sharing it with friends and loved ones! Cooking brings people together and gives them the chance to work as a team.
It's a moment in which you bond with others, share memories, and remember the lessons your ancestors left you. Also, it's a space to have fun and promote a healthy competition by creating the best dishes or drinks to share with your family and friends.
And what better way to introduce Salvadoran culture to your home than cooking pupusas? It'd be a great way to enjoy your time with your loved ones while you try one of the most delicious and recognized dishes in the world!
Leave a comment and tell us if you've already tried the pupusas or want to make some on your own!
6